So
The Bachelorette
last night taught me a few things. Croatia is cold, rainy, old and has cats all over. Also, I think Croatia must have been Scotland in another life, because the guys wore kilts and participated in the Highland Games. Oh, and I also learned what not to do in a relationship, namely being a narcissistic pig (thanks, Ryan!). Let's get started!
Was it awkward to anyone else that, right after the "Ricki is Baggage" drama from last week, Ricki got sent packing back to North Carolina like, well, unwanted baggage? Just kidding. Sort of.
Travis, wearing pink plaid, was concerned that he might not get a date card. I would have been more concerned that I was wearing pink plaid. Just a thought. But Travis, fear no more, the date card has your name on it! And he and Emily go walking through Dubrovnik (try saying that ten times fast!) where he buys some cross thing made out of what looks like soap, and they try standing on the 'balancing stone'. Which, shockingly, is a real thing, and not some hocky Team Bachelor inspired load of tripe! Go figure. Anyhoo... if a person stands on it and takes off their shirt, they will fall in love with someone right away. Travis tried to stand on it for about two seconds, and then gave up. Em was not impressed. "I'm really bummed out Travis didn't take his shirt off. I've been wondering, 'What's underneath that shirt?'"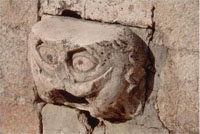 I am sooo creepy! Come stand on my head and take your shirt off!
Eeeeew. Cutting back to the guys in the hotel and we get this gem of Ryan ion a white, girly tank top. Cue to me washing my eyes out with soap.
I shop at clothing stores for women. I like sports bras...
Back to Travis... they are having dinner in a cold, private, ancient-courtyard-lit-by-candles and are talking about past relationships. When asked what kind of girls Travis dates, he responds "You to a tee." No offense, Travis, but I doubt that. You're a country bumpkin, and she's a supermodel socialite. Just sayin'. Then he mentions that he hasn't dated in two years since breaking up with his fiance. He doesn't know why. I'll give you a hint, Travy... it's the egg thing. Then, in a sad way it made me laugh when Emily said "We don't have romance, you know?" and Travis nods, but his face looked so crushed. I really hope he got to eat before getting kicked out. But, Travis, word from the wise... next time, ditch Shelley before meeting the girl. As he walked away (in the rain, throwing his umbrella aside in a pathetic, sad-face act of passion) I kept hoping that his voice over would say something like "My heart was as big as an ostrich egg, but it just got crushed," or something similar. Sadly, no mention of the egg again. RIP forever, Shelley.
Back to the hotel. Ryan tells us that "I am an absolute front runner. ... I can manipulate the situation. I can get the girl." Keep trying, big boy.
Group date! Movie night to the animated movie Brave. The guys all pretend to love it. Arie makes this observation about the heroine in the movie, who has guys trying to win her hand in marriage. It's like our situation except "she got gyped. She only has three guys."
Croatia. Scotland. No difference. Let's have our own Highland Games! Is it sad that Emily can shoot a bow and arrow better than Chris? And let's not even talk about his butt out, girly, prancy stance when shooting. Epic fail.
Emily: I will shoot the first one of you to break my heart.
Jef: I'm cold.
Arie: I sure wish I wasn't in a shirt for the second week in a row...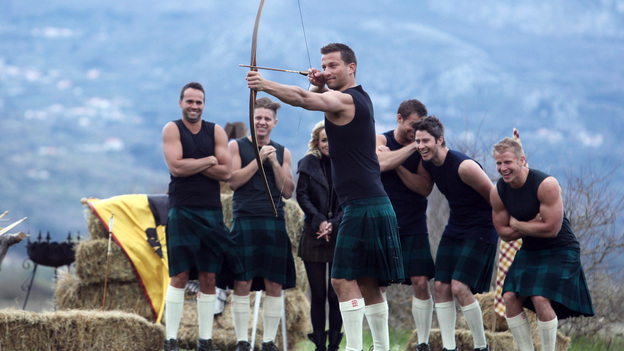 Chris: I'm gender confused.
Sean says "The difference between a kilt and skirt? Nothing." Amen.

Emily is completely twitterpated with Sean. "Sean, you are impressive at doing things I've never heard of." What a compliment. But Sean did break the log. I think the Croatian men who owned the log weren't too thrilled.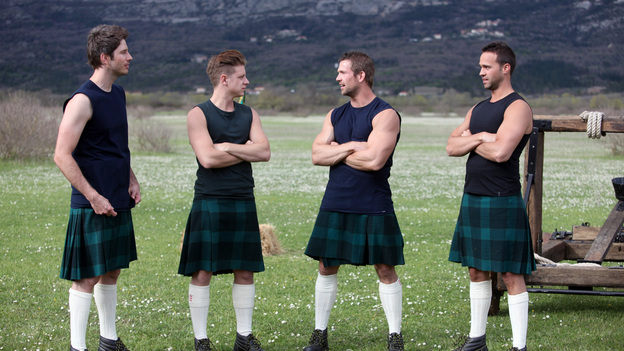 We are freaking COLD!
Jef and Emily later on the date were adorable! Em wondered why he hadn't made a move earlier. Jef admitted that she terrifies him. Then he says "I'm freaking crazy about you." Cue the 'awwww's. I'm freaking crazy about that line!
Now on to the Ryan date, during which time Emily alternates between a "he's dreamy" and "he's a tool" expression when she looks at him. Chris commented that "it takes the guy three hours to get ready. He shaves his legs and plucks his finger hairs and stuff. It's weird." I concur. I also found the "you're the pearl" exchange while sitting on the couch in front of the other guys uncomfortably weird. I enjoyed how the guys were all avoiding eye contact and trying not to bust a gut laughing.
Jef's "But I think [Ryan]'s a great guy." (shaking head 'no') comment made me laugh.
Ryan kept calling Em a trophy wife even when she made it clear she hated it. He also made the List of 12 things that freaked Emily out. (loyal, logical, encouraging, faithful, nurturing, confident, magnetic, loves laughter, assertive, unselfish, beautiful...). Emily told him he wasn't getting a rose. Ryan looked like a deer in headlights. Totally caught him off guard. "This is very shocking." (To you, maybe, not to anyone else) I am so glad Emily didn't give in to his smooth talking, used car salesman jabber trying to convince her to keep him. Buh-bye Ryan.
"When you look at me you see a winner." Oh Ryan. No, no we don't. We see an arrogant jerk-wad who won't shut up about how great he is. Arie says that if Ryan is thenext Bachelor, the Bachelorette would have to be a mirror. Ha! Then, in the van? taxi? limo for rejects? Ryan continues talking about how he hopes America sees what a great guy he is. "One thing I definitely hope in all of this is that I am portrayed as who I really am. For your guys who cut this up, do a good job portraying exactly who I am and not, you know, an arrogant a--." Here's a hint, Ryan. You came across exactly like an arrogant a--. Better luck next time.
Also loved when Ryan said that he had great friendships with the guys, and it cuts to them in the hotel cheering and high fiving over Ryan not coming back. Haha.
I am God's Gift to the World!
Would anyone actually date Ryan in real life? For the love of all that is holy, please tell me no!
Arie sneaking out to comfort Emily? Adorable. Now I'm conflicted. Jef? Sean? Arie? Sigh. I can't pick. Although, sadly, it looks like Arie might get the boot now that the "Arie dated a producer who is my BFF" thing is coming out next week. Emily does not seem too happy.
I was hoping at the rose ceremony that Em would kick off Doug (he is looking more and more like a clone of Chris every week, FYI) and Wolf-boy both. But, alas, she opted to keeping them one more week, although I'm pretty positive that she was just tired of saying goodbye this week and decided to keep them out of pity. I mean, really, Wolf pulled out the grandparent-dead card (literally) and Doug was all awkward "I want to make a move but I'm sooo shy" thing, so she would have had to be pretty heartless to send them off after that. (As an aside, wasn't the Emily/Doug exchange the most awkward thing ever? I felt bad for them just watching it! Emily was leaning away, Doug's fingers kept tickling her side. Ugh.)
And that's it! Woo! Prague next week, which, let me guess, is "the perfect city to fall in love!" At the rate we're going, the only place that won't be "perfect to fall in love" is a WWII death camp, but who knows...
I really need to up my European geography. I thought Prague was in the Netherlands. Nope! Czech Republick, amigos! Wooo! Party in Prague!
Well, my friends who actually admit to watching this drivel (and secretly loving it!), until next time, have a great week! And let me know... what did you think of this week? Who are you now rooting for? And would you rather date hot Sean in a skirt/kilt or creepo Ryan?
If you get bored and love/drama starved between now and next Monday, be sure and check out
Tanned, Toned and Totally Faking It
, a great summer read. It is like "reading Us Weekly, only better written and not as trashy", with an "unpredictable" ending. I promise you will love it!!
Peace!